max kauffman,
if this is any indication
, 
i am admittedly one of those horrible seaboard dwelling americans who has a veritable blank spot in my mental map when it comes to the midwest. 
ohio? really?
missouri? no idea.
basically my working knowledge of midwestern states comes only from the music festivals they hold each summer. 
michigan? rothbury!
minnesota? 10,000 lakes!
illinois? summer camp!
well fortunately looks like illinois has much more to brag about than summer camp '09. originally from chicago, illinois artist and illustrator
max kauffman
spent his idyllic youth in south bend, indiana rolling between the countryside and the city on four wheels and a deck. this fluid relationship between the urban and the bucolic can be seen reflected in the organic and simultaneously architecturally constructed compositions of this very talented and free spirited artist. 
max kauffman,
power exchange
, 12"x12" mixed media on watercolor paper
kauffman left the midwest for arizona in 2000 and finished up an art degree at arizona state university in 2004, with a focus in ceramics. he also earned himself a minor in anthropology, which seems to have had a formative influence on the sort of folkloric, mythological imagery that pervades kauffman's work. much of the artist's oeuvre consists of imagery that alludes to the tenuous relationship between science and nature. though science is often a tool used to understand nature, in recent years science has often been applied in such a way as to move further and further from the natural order of the earth. more and more often we see science used as a tool to tame, corral and subjugate nature to suit our human needs, rather than a lens through which we can explore the best ways that we can live simply on the earth. 
power exchange
 is a great example of this theme. the composition depicts a robot, easy read as either imposing in its forward thrust posture and agape mouth or somewhat sad in its blank eyed stare and imploring body language, offering a totemic bird figure a hand full of what appear to be batteries. however, the batteries could be alternately read as worms or grubs, being the power source for the bird. i love the bird figure, because it has a very ancient, emblematic presence that reminds me of early animal renderings done by long ago cultures. many of kauffman's works include bird and animal figures that have an sort of raw, native presence. his tangible interest in the relationship between man and machine belies the influence of artists like
h.r. giger.
max kauffman,
(thriving) culture
i love kauffman's use of color. his color relationships are natural, appealing and mature. though he certainly never shies away from vibrant, saturated colors kauffman doesn't force contrast for the sake of flash.
the artist explains
, "color always begins every piece; line and texture fall in line after." using media such as watercolors, ink and washes kauffman successfully carves figures from the meat of his tonal landscapes. texture plays an important part in the artist's style. at once painterly and graphic, the works move seamlessly between carefully controlled passages of color, and loosely rendered, cerebral shapes and lines. his work utilizes a sort of hallucinogenic abstraction to depict the protagonists and landscapes of his own personal imaginary world, replete with a strong sense of conflict and tension. 
max kauffman,
birding in egypt,
11"x14" 
hand embellished two color silk screen, 2009
kauffman's interest in ancient cultures and their lasting impression on our contemporary world can be seen in pieces like
birding in egypt,
a piece that employs hieroglyphic like elements to pay homage to the historical relevance of early cultures. in some ways, it seems to me, that this consistent use of ancient symbols serves as a reminder that the concerns, dreams and fears of communal cultures stay relatively the same from century to century. as human beings we are linked from generation to generation, by our desire to fulfill the same needs, answer the same questions and seek the same comforts. 
max kauffman,
symbiote
, 11"x11" watercolor, sepia and ink, 2008
max's art also calls to mind more contemporary art movements, like modern skateboard art. kauffman, who has himself done skateboard design and sights skateboarding as a major source of inspiration, has an aesthetic that immediately makes me think of skate design greats like
thomas campbell
and
barry mcgee
. his line quality has a frenetic, extroverted energy that encapsulates the free-spirited, unconventional style of great skate art.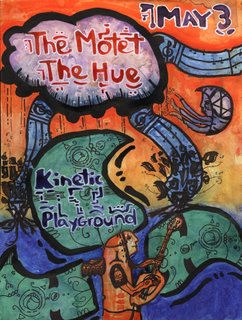 max kauffman,
motet poster
(*big ups to jans ingber who's father is a good buddy of my 'rents)

and lastly, i have to give a shout out to kauffman's great taste in music. a music lover, and a frequent adventurer into the world of live music, max sights the spontanaeity and constantly changing structure of live music as a great source of inspiration. 
art research in today's day and age can be funny. more and more, artists who don't have the time or the resources to create a complicated personal website (kauffman's is currently under construction, though he has a charming and inviting start under his belt) rely on social networking sights like myspace and facebook to promote their art. the first time i had to go to an artist's myspace to get more info i felt like i was invading their privacy. mixed in with the straight forward shots of art pieces are party pics, personal anecdotes and commentary from friends. on action i find myself falling a bit in love with the artists that i look into, or at least find myself wanting to buy them a beer. max is no exception. seems like the kind of kid i'd like to hit up if i make it to summer camp this year (i'm on a mission with my buddy joseph to make it to a new festival each year in a state we haven't been to, and the midwest has plenty of states i haven't been to, and shows i've been meaning to catch). and i'll certainly go out of my way to see his art first hand next time he has a show in the NW. 
kauffman recently finished up a solo show called "ghosts of industry" at
push gallery
in asheville, nc and has/had a show in april at
andenken gallery
in denver (where the artist is currently based). he has an impressive list of shows coming up in the next year including a june group show at seattle's
halogen gallery
 (formerly suite 100 gallery) and a self-curated show in october '09 in chicago through
oh no! doom
.