(
Kevin Cyr
,
Supplying good quality products and serving people with all my heart,

48x60, oil on wood panel)
after weeks of inconsistent weather, vacillating rapidly between hot and miserable, a long, mean train of unseasonably cold weather punctuated with glimmers of sunny false hope, we here in eugene have been blessed with the kind of day perhaps only Vermeer could do justice to. this morning i awoke to the kind of day so beautiful that even with all the curtains drawn the sun seems to find its way in and tap you on the shoulder early in the morning to rouse you for the day. it was the kind of morning that smells of adventure, and my sense of motivation was piqued by the prospects. 
and why not feel inspired when you get the chance to do something as cool as interview
kevin cyr
?! kevin works in brooklyn, NY but he's recently spent time in china, and has added a wicked cool series of bicycle/ retro-camper creatures to his already formidable ouevre of battered muscle cars and fading artifacts of americana. i've been a serious fan of photorealism since i saw a robert bechtle retrospective at the SFMOMA a couple years back. turns out kevin, who also works in a photorealistic style, saw the same show and also had his bells rung. i was immediately drawn to kevin's work for his jaw dropping technical skill and his familiar yet haunting subjects. i love that he approaches the portrayal of a graffiti ravaged van with the dedication and percision of a court painter. His oil on wood paintings have an enormous amount of personality and presence. kevin was nice enough to answer some of my more pressing questions about his art:
chloe gallagher
: so how did the inspiration for your camper bike series develop? and, since I know you've been traveling a lot lately, can you tell us geographically where this epiphany hit?
kevin cyr
: the idea came to me during my first trip to China a couple years ago. I had the opportunity to assist a New York artist on a painting project in Beijing and i absolutely fell in love with the culture, the people, the food and the different modes of transportation. Beijing has a huge bike culture and for most people it's their only way of getting around and how some make a living. I saw so many people using pedal bikes, mopeds, and 3-wheel scooters for really labor-intensive work and carrying huge loads, much like pickups are used in the U.S. 
(
kevin cyr
,
pigeon market
, graphite on paper)       
cg
: i know that automobiles have been a theme for you for quite some time, particularly the slightly decrepit and nondescript. did you have an interest in alternative modes of transportation before you began your travels?
kc
: i've always been interested in bikes, motorcycles and painting cars was my way of documenting the changes in the U.S. through our car culture. traveling abroad has exposed me to vehicles that I never knew existed and has also provided insight into different cultures. I think you can tell a lot about a place by the types of vehicles people drive - like the rickshaw in India and the 3-wheel bikes in China.
cg
: was you interest in the various bike-camper amalgams that you saw an environmental interest of a social one? What was it about them that captured you?
kc
: until i built a camper last month in Beijing, it didn't exist. i guess it's a little different from my other paintings, because i'm no longer documenting a particular kind of vehicle, but creating my own. it became a social interest when i realized the cultural differences in regards to recreation. i grew up camping, but the idea of sleeping in the woods is completely abstract to most. few people i met in Beijing had ever heard of an RV/ camper much less seen one in person. until now, i've thought of my project only in the context of China, about placing such an American object on something very specific to China. it's interesting to be how Chinese people react to the camper, until now they've only been exposed to luxury products, or brands from the U.S. i'd like to think that i'm doing something a little different with the camper. i've shied away from making it an environmental issue, flying to China and back is the worst thing i can do to the environment, so i'm not the one to say anything, but as our economy worsens and gas prices sky rocket my project does become more relevant in the U.S.  
   (
kevin cyr
,
bear you motherland in mind while casting your eyes on the world,

60x72, oil on panel)
cg:
in some of your earlier works you depict cars and vans grilled with graffiti. your hand style is spot on. if you don't mind me asking, has graffiti ever been a part of you life, or are you just a pitch perfect mimic?
kc
: coming from a small town in northern maine i was always too chicken to do graffiti. it's such a part of my environment in NY that it's naturally found it's way into my work (almost every van in my neighborhood has some graffiti on it). i like how it adds character to an already decrepit van, and it's fun to paint.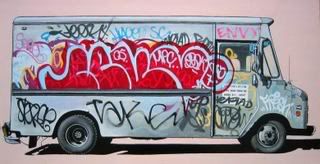 cg
: your chevy van sculpture is just amazing. did you draw inspiration from earlier installation art, like ed keinholtz and his
backseat dodge '38,
or is that just the art history nerd in me talking?
kc
: i just had to look him up, but i'll definitely draw inspiration from him next time i consider working in 3-D. Thanks. i was really interested to see if my painting style could translate into three-dimension. i like how it came out and i plan on making more someday. 
kc
: i do ride my bike, everyday. my commute now is very short, but i was a bike messenger in Boston for five years. it was a fun time and i made lots of really close friends. my interest in biking is partly what led me to the camper bike project. 
cg
: you render your machines so lovingly, but on your site i also saw some lovely portraits of people. how do you approach the painting of a person differently than you approach a Hostess Cupcake truckette?
kc:
it's fairly similar, but i spend much more time getting the drawing just right and i use an underpainting with a portrait. painting a truck is a little more forgiving, if some aspect of it is inaccurate it doesn't matter as much. 
cg
: do you have a favored medium?
kc
: oil paint on wood, but it was really fun to make the camper-bike.
cg
: what kind of art supplies do you take with you when you leave home?
kc
: usually just the basics, sketchbook and pencils, then i buy paints and other supplies as i need it. my camera is crucial, because i do as much documenting as can. i always regret when i don't have it ready. 
cg
: if i threw a fabulous kevin cyr party, and you were going to make a grand entrance, what song would be playing when you walked into the room?
kc
: "making time" by Creation, but sung by my friend eddie wang at karaoke (KTV in Beijing). it has such a  great intro and i think it would be funny to hear my friend eddie sing it. he love KTV but his english is a little limited. that song is on the
Rushmore
soundtrack, which is still one of my favorite movies. 
 (
kevin cyr
,
camper bike
, 12x12, oil on plywood)