Oedipus (Elvis Johnson #1), 1956-57
Collage, Ray Johnson
i would love to be able to write to ray johnson to ask permission to use his imagery in my blog. unfortunately ray jumped from a bridge and swam himself forever into the atlantic ocean in 1995, his last "Nothing", as he called his performance pieces.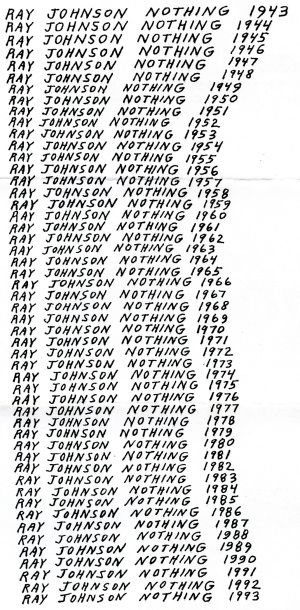 ray johnson's art, and for that matter his life, has always spoken to me on a deeply personal level. his was a fractured, frenetic mind, a state that is reflected in his spontaneous, yet intimate collage work. ray lived a solitary life at times, he had difficulty communicating and was awkward socially. perhaps this disassociation is what prompted him to develop mail art through his New York Correspondence School. 
this is a man that i can empathize with. though i suffer from no major mental illnesses, i have serious bouts of social anxiety and i'm generally bad with confrontation. there is something romantic and pure in letter writing. true there's no body language or tone of voice to aid the understanding of what's being said, but i find that when i have the time to sit alone and write out what i want to say to someone i can simultaneously be honest with myself and my subject. i think ray found a way to communicate with a world that he found treacherous, and elevated it to an art form.  
i love the narrative quality of johnson's work. even pieces with no words still seem to speak directly from johnson's fractured heart. collage is one of the few mediums i've ever worked in with any success. i think that by finding my voice in sources created by others i gain confidence through solidarity. if little pieces of my message can be found all around, then maybe i am not alone in my thinking. i often wonder if johnson found a similar sense of connectedness in the process; whether his search for materials made him feel more or less alone. my writing